News : March 2010
Cayin Digital Signage,
ABN - 72 935 646 657
Digital Signage & Video displays
Digital Videowall Technologies provides Dynamic Digital Signage solutions, including media players, servers, and management software, dedicated for the out-of-home digital media network.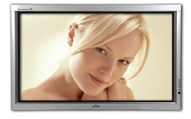 Digital signage, also known as narrowcasting, electronic billboards, digital screen network and digital sign, is a multimedia, or even interactive platform to convey effective information to targeted customers in a variety of commercial venues, such as corporate, education, museum, retail, hospitality, hotel, bank, government, and transportation.
Hitachi 42'inch Plasma Myer promo.
3 x 3 Videowall Seven TV network.
3 meter C-Band international dish.